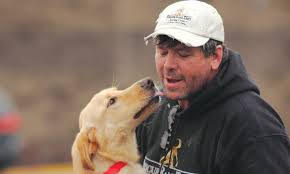 You don't have to be a professional athlete or celebrity to be a hero!
If you're not familiar with Greg, that's okay. It's never been his goal to be famous. Rather, Greg has made it his life mission to rescue as many displaced dogs as possible and connect them with loving forever families.
In his lifetime, Greg has driven more than 1 million miles connecting dogs from their rescue families to their forever families! In the process, he's rescued thousands of dogs from hunger, abuse and neglect, and given them a second chance at life and love.
The kicker: He does this while making a salary that equates to less than minimum wage and sleeps in his truck for each trip that he does.
But for him, the money doesn't matter. Helping animals and the sense of pride and service that comes with it, is what does!
Greg is a hero to me because, not only is he an amazing human being, but he realizes and lives out a secret to happiness in life. Greg recognizes that money alone doesn't bring happiness or meaning. A life of service, however, can bring you both!
To Greg Mahle and all of the volunteers who help support this cause, keep lighting the candles, guys!
~
PS. Our dog, Butters was delivered to us by Greg and his organization, Rescue Road. If you'd like to learn more about Greg – or you're looking for an inspiring, heart-warming read – check out the book, Rescue Road, which talks more about Greg's life and and work in rescue.
Image Source: https://ohioec.org/ohio-cooperative-living/dogs-best-friend/
Header Image Source: https://parade.com/265264/peterzheutlin/one-dedicated-man-hits-the-road-in-a-12-wheel-rig-on-a-mission-to-save-precious-pups/