LeBron James Invests in his Mental Fitness and You Should Too!
It goes without saying that LeBron James – an NBA super-star with far too many accolades to list here – is one of the most impressive athletes of our time. With strictly regimented routines comparable to other standout athletes such as Patriot's quarterback Tom Brady or Olympic swimmer Michael Phelps, every minute of James' days are planned out ahead of time.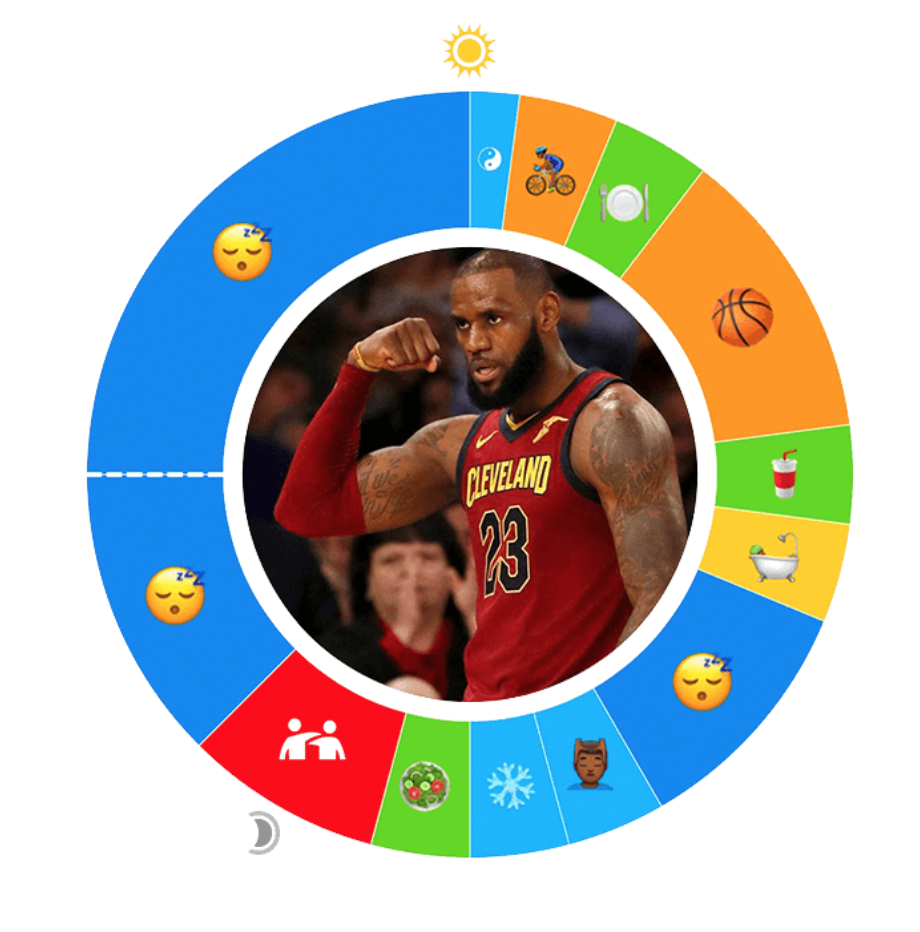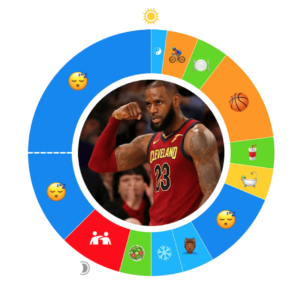 Upon his recent collaboration with the app Calm – a meditation and relaxation aid1 – James acknowledged that as a professional athlete, mental health is just as important to his success as physical health. He went even further, rebranding "mental health" as "mental fitness", giving a very stigmatized topic a positive connotation.
As a high-performing professional athlete, James carries the stress of winning games, earning championship titles and striving to be the best basketball player of all time (though he's arguably there already). To combat this incredibly heavy pressure that's been placed on his shoulders, he incorporates mental fitness sessions into his daily routine. This takes place in the forms of early morning meditation, naps, and family time. Making both his brain and body stronger, in doing so he's leading a happy, healthier and more satisfied life.
At Mental Fitness, LLC, a private counseling practice in Cranberry Township, PA,  we're dedicated to helping individuals achieve their full potential. We are incredibly excited to have such an influential athlete such as LeBron James bring attention to such an important topic.
Winning championships or Olympic medals doesn't come easily; it requires preparation and hard work, and a clear mental focus. In order to achieve goals, we must first set goals.
Using Mental Fitness' 10 Principles of Goal Setting, let's breakdown what James does and how we can start setting better goals of our own! Find a cause, commit (then figure it out), skin-in-the-game, positive self-sabotage, seek support, make it measurable, accountability, routine routine routine, time bound and stay determined.
Principle #1. Find a Cause
When first setting a goal, you need to find what drives you to accomplish that goal, what is your motivation? By discovering what fuels your fire, you're more likely to continue moving forward even when the going gets tough.
Recently, James is using the death of close-friend, teammate, and hero, Kobe Bryant as a motivator to continue the legacy and be the best basketball he can in the years he has left in the NBA. Check out his tribute speech below.
https://www.youtube.com/watch?v=KrGzQbMHZBE
Principle #2. Commit, Then Figure it Out
The stars most likely won't align, the perfect conditions are highly unlikely and the timing will probably never be right. If you want to make it happen, you need to take that leap of faith and get started. Set your goal, use the tools you have and go from there.
Born from humble beginnings, James' father was out of the picture and his mother struggled to find work. Upon discovering that he had a natural talent for basketball, James moved into the home of Frank Walker, a coach who had been involved in introducing the sport to James2.
Moving away from his family at a young age, James took a terrifying leap to pursue his dreams. Had he not done this, LeBron James most likely wouldn't be the household name it is today.
Principle #3. Skin-In-The-Game
It goes without saying that setting a goal is easy, the hard part is sticking to the plan to achieve that goal. Studies show that by February, 80% of New Year's resolutions have been abandoned3. What's a good way to stay invested? Get some skin in the game! We're not just talking time here, money too. When we put our hard-earned money towards achieving a goal, we're more likely to stick with it, especially if we spend a sizable sum.
As Vince Lombardi said, "the harder you work, the harder it is to surrender." As a high performing, professional athlete, LeBron has to give his all every game. This sometimes means literally leaving skin behind on the floor as he dives for 50/50 balls hoping to give his team possession. In regards to your own goals, try getting some skin-in-the-game like LeBron and invest something to get you motivated!
Principle #4. Positive Self-Sabotage
The word "sabotage" carries a fairly negative connotation, but in this instance we're using it as a way to hinder ourselves from making negative choices to nudge ourselves towards the better ones. Employing positive self-sabotage could include getting rid of the junk food in your pantry or refusing to hit snooze on your alarm every morning.
No one is perfect and despite a rigorous and strict program, this is one of the aspects of goal setting that LeBron occasionally allows himself to break. He admits to breaking his diet and eating his favorite cheat meal and drink, Blaze Pizza (which his is an investor in – see step 3) and a glass of wine4. That being said, without his strict diet, LeBron wouldn't be the athlete that we see today!
Principle #5. Seek Support
Asking for help is not a weakness! We often forget that using our support systems – family, friends, mentors, etc. – make us stronger! Simply look at all of the support systems in place for professional athletes! They have access to athletic trainers, physical therapists, nutritionists, sports psychologists, and that's after their friends, family, teammates and coaches! It's important to make use of the resources we have available to us as we look to achieve our goals!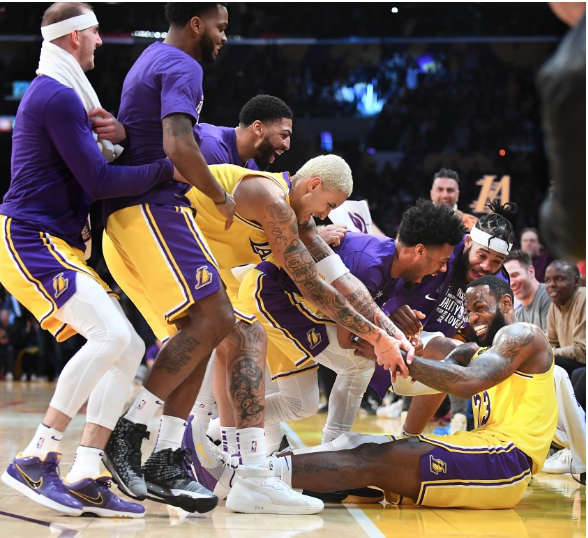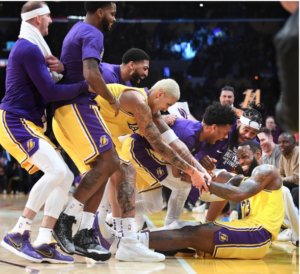 Principle #6. Make it Measurable
Without means of measure how do we know if we're progressing? Using a FitBit or Apple Watch to track physical goals or ensuring to do something daily and setting reminders to do so, we're able to see if we achieved our goals (or didn't).
A classic example is the 5-2-1-0 program implemented at schools to encourage students, families and teachers to lead healthier lives. The program has measurable goals so that participants can aim to meet each one.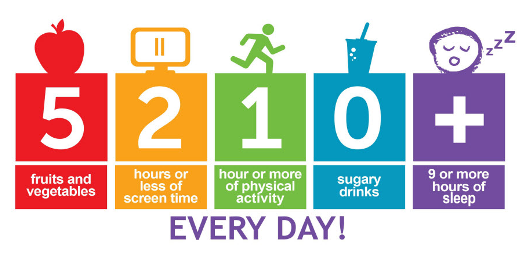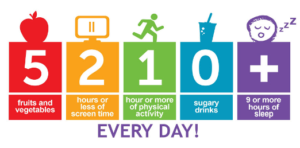 https://www.uchealth.org/services/community-health/healthy-kids/
At the beginning of this article, an infographic was presented representing what a day-in-the-life of LeBron James looks like. As understood by the emojis and colored pieces of the pie, LeBron has a strict schedule about what and when he's eating, how long he's sleeping and what kind of workout he's doing at different times of the day. While no regular, working-class human can be expected to measure and schedule out their day like this, 5-2-1-0+ is great alternative that is easier to be integrated into daily life.
 Principle #7. Accountability
Professional sports leagues are constantly supplying fans with game and individual player stats. These are used not only as a means of the athletes themselves measuring their success, but holding them accountable as fans either commend or criticize the players. LeBron promised the city of Cleveland a championship and by sharing that goal in a letter to the people, was held accountable by thousands of fans too.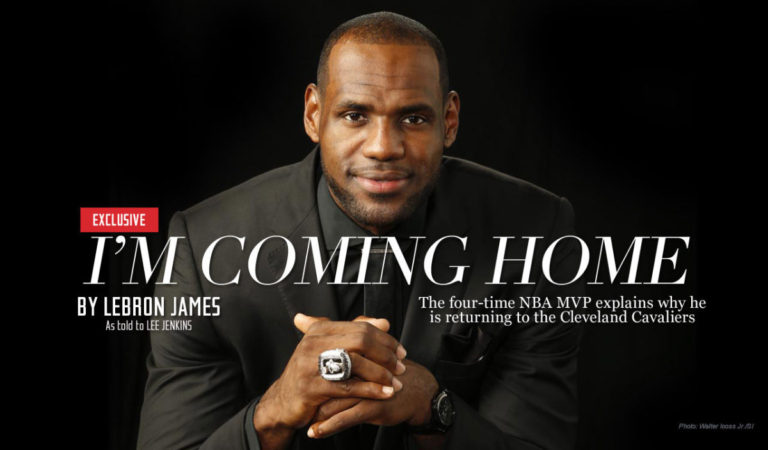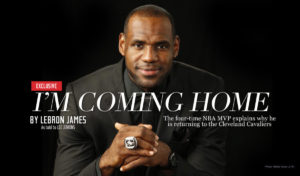 We are significantly more likely to keep on course with our goals if we share them with others. Many of us, when held accountable by others, all less likely to skip out on responsibilities than if we were just holding ourselves accountable. Sharing our goals with others and even updating them on our progress make us more likely to succeed.
That being said, a daily update on Facebook probably isn't the move.
Principle #8. Routine, Routine, Routine
"In the long-term, it's our routine that become our lifestyle, and it's our lifestyle that determines our long-term health and happiness."
-Mental Fitness President, Steve Wize
This means going to the gym on the days when you just want to stay in bed or refusing the cigarette that you so desperately crave. In order to create the lifestyle we want, we have to follow routines and form healthy habits. These reinforce the behaviors that we want and eventually can cause positive changes in our lives.
LeBron James, like many professional athletes, has a strict daily schedule that he follows in order to maximize his performance. Check out the article below to dive deeper into what his fully scheduled days entail.
https://owaves.com/day-plans/day-life-lebron-james/
Principle #9. Time Bound
The NBA season is only so long and the road to playoffs doesn't wait for you to get ready. Although we may not have a basketball season to keep us on task, we must give our goals an end-date in order to keep us moving along. The absence of a schedule can be discouraging and allow us to delay progress. Set a goal with a deadline and challenge yourself to meet it.
Any athlete's body has a time limit on it; a point where they can no longer physically perform at the same level as before. LeBron intends to maximize his career, while being aware of his own personal clock. With three championships under his belt already, he intends to push himself as hard as he can to win more before his time in the NBA expires. To do so, he's setting goals for himself with clear timelines!
Principle #10. Stay Determined
The city of Cleveland had a 52-year professional sports title drought until LeBron James won the NBA finals with Cavaliers in 2016. Despite failure for an extended period of time, the Cavs management stay determined and worked hard to put together a squad that would finally win them a title.
Hopefully your goal won't take 52 years to achieve, but the 10th step comes from putting all of the other steps together and just grinding. Your goal won't come easily, so get ready to put in some hard work, even if you're setback.
For years, LeBron didn't realize the importance of his mental fitness. Once he took the time to invest in it in the same way as his physical fitness, he found incredible success. We can all take a page out of LeBron's book and work to better ourselves!
Citations:
Adebowale, T. (2019, February 25). Here's Everything We Know About LeBron James' Diet.
Retrieved from https://www.menshealth.com/nutrition/a22877245/lebron-james-diet/
Experience Calm. (n.d.). Retrieved from https://www.calm.com
James, L. B., & Jenkins, L. (2014, July 11). SI exclusive: LeBron James explains his return to
Cleveland Cavaliers. Retrieved from https://www.si.com/nba/2014/07/11/lebron-james-
cleveland-cavaliers
LeBron James. (2020, February 24). Retrieved from
https://en.wikipedia.org/wiki/LeBron_James#Early_life
Mills, J. (2020, January 3). Tips for making sure your New Year's resolutions stick. Retrieved
from https://www.thetimestribune.com/news/local_news/tips-for-making-sure-your-new-
year-s-resolutions-stick/article_8cd14b54-17fd-51a9-ab5a-89859e6e34c4.html
Image Source: https://www.sportscasting.com/lebron-james-has-sadly-had-to-mourn-two-deaths-during-the-2019-20-season/