Motivation is a Myth
Personally, I believe motivation is a myth. The myth is that we must be motivated to act. The trouble with this "motivation first" attitude is that it backfires.
We think motivation is like a bubble. The longer we wait, the bigger it gets, the more likely we are to burst into action. The truth, however, is that motivation is more like a backpack full of rocks. Everyday we wait, we add another rock to the pack thus weighing us down in that same old pattern of behavior.
For me, action comes first. Any small action then builds motivation and momentum and fuels more action.
I hope you've enjoy my rant and that it helps! Thanks for reading.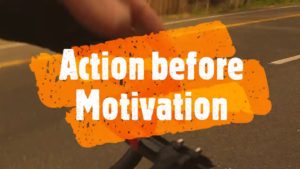 Image Source: https://tryengineering.org/news/developing-a-greater-sense-of-motivation-in-students/