Considering the tragic events of this weekend, I wrote this little poem. I'm no poet, but I figure I'll post it anyways.
It Starts With Me
It starts as a thought
Placed in my head though I want it not
Put in there by an older generation
Now the choice is mine- growth or extermination
We hear it in whispers
We hear it in bars
We hear it and laugh and don't disagree
We think, maybe they're right- to some degree
I have privilege
I have comfort
Equality for you means
I might suffer
The honest truth is
I don't have a clue
I've never been hated in my life
Yet alone, all I ever knew
I don't know what it is to be you
You don't know what it is to be me
But perhaps that doesn't mean
We both can't be free
Free of judgment and hate
Ridicule and assumptions
You and I brothers
A win for you is a win for all others
See hate is losing game
It perpetuates itself if we allow it
But it can't stand the light
The truth, if we announce it
We are all equal- you and I
Children of God and no less fortunate
To have life on this earth
And to have a blessed life for it
Men have died in the past
So we realize this truth
Let us not die again, rather
Let's put ourselves to use.
It Ends With Me.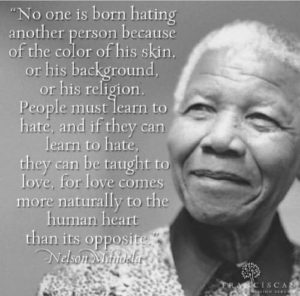 Image source: https://www.pinterest.co.uk/pin/557742735075617423/
Header Image Source: https://pcg.church/articles/5473/spring-holy-days-appreciating-god-s-goodness